This Is The First Person Ted Kennedy Called After His Chappaquiddick Crash
This Is The First Person Ted Kennedy Called After His Chappaquiddick Crash
July 1969 was a month that put a permanent stain on the career of politician Edward "Ted" Kennedy. Kennedy was poised perhaps to be the next president, as the only surviving son of Joseph Kennedy — Joseph Jr. died in war, and brothers John and Robert were assassinated (via Smithsonian Magazine). The surviving son was visiting Chappaquiddick, a small island near Martha's Vineyard, to take part in a weekend regatta. Mary Joe Kopechne was a 28-year-old guest at a party on the island who had previously been active in Democratic Party politics. She even helped to write an anti-Vietnam War speech for Robert F. Kennedy.
According to History, most Americans were at home watching the launch of the Apollo 11 lunar mission, but Kennedy — a married man sans his wife — was throwing a party for his circle of politico friends. At 11 p.m., Kennedy left the party with the young Kopechne and claims he was going to take a ferry with her back to their respective rooms near Martha's Vineyard. Tragedy ensued when Kennedy plunged his vehicle into Pocha Pond. His vehicle was submerged underwater, and he swam out to escape. However, Kopechne did not survive.
Almost 55 years later, details about what happened after Kennedy fled the scene are murky, and questions still abound: Did Kennedy, as he has claimed, try to help the young woman? Why did he not call the police immediately for help? Kennedy did, in fact, make a call, but it was not to who you might expect.
Partners in crime?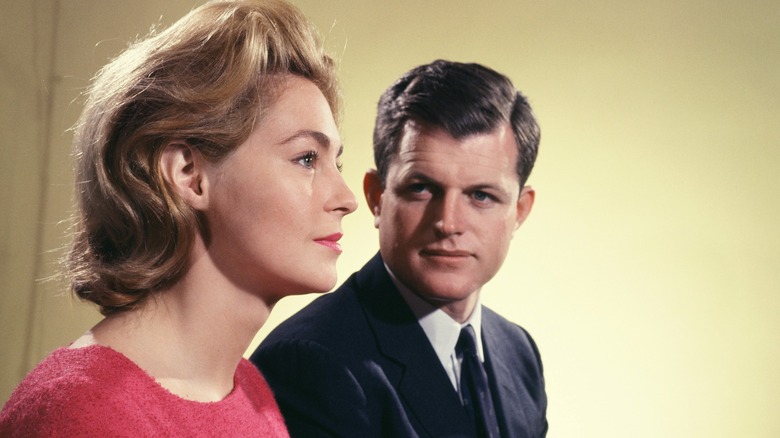 Michael Ochs Archives/Getty Images
Allegedly, the senator abandoned his Oldsmobile in the water and returned to the cottage to get two friends to try and help save Mary Joe Kopechne (via History). When they were unable to retrieve her body, Ted Kennedy allegedly swam almost a mile to return to his lodgings at Edgartown.
In 1958, Kennedy married a young socialite from Bronxville, New York named Joan Bennett (via Encyclopedia.com). Bennett was always aware of the scale of the Kennedy family's political ambitions and promised to devote her life to her husband's demanding schedule. Bennett Kennedy sometimes modeled and even participated in works with the National Symphony. However, as time went on, Bennett Kennedy grew disenchanted with the role of a politician's wife. She started dressing in flashy attire to get attention and later resorted to alcohol abuse as a means of escape.
Meanwhile, her husband was in an affair with Helga Wagner, who many friends of the Kennedy dynasty claim was the true love of the senator's life (via People). Wagner was a jet-setter born in Austria (via The Washington Post). She speaks five languages and was only known to the closest of Kennedy confidantes. Interestingly, The Washington Post kept tabs on a story that pointed to the Church of Scientology trailing her in an effort to derail the Kennedy family. One fateful phone call gave them enough fodder to discredit the Kennedys for years to come.
At 8 a.m. on the morning of July 19, Kennedy called Wagner, but not to necessarily vent about his recent predicament (per People). He called her asking for the telephone number of brother-in-law Stephen Smith. According to AP News, Stephen E. Smith, married to Jean Ann Kennedy, managed John F. Kennedy's presidential campaign and advised the family on both financial and political matters. Wagner had refused to ever disclose what was officially discussed, but Kennedy was eventually open about his friendship with the model and photographer.
The woman who answered
Facebook: Helga Wagner Collection
Recently, Helga Wagner spoke of the phone call with Ted Kennedy on People's podcast "Cover Up" and stated, "He told me what happened, and that he desperately tried to save her." She admitted the politician had always been a good friend. It also appears that her silence was important in the Chappaquiddick case. Other forces had their eye on the Martha's Vineyard adjacent community, including the private investigators working for then-President Richard Nixon. The undercover snoops were told to get to the scene of the alleged crime quickly, especially since Nixon thought of Kennedy as a political rival. Tony Ulasewicz was the first from the Nixon camp to get to the scene, and some believe he knows more about the fatal incident than any other authority.
Today, Helga Wagner doesn't necessarily have to worry about political investigators, envious wives, or churches sussing her out. After living abroad, Wagner settled in West Palm Beach, Florida, where she creates jewelry from seashells and coral (via HelgaWagner.com). You can even see her jewelry on permanent display at the Jacques Cousteau Oceanographic Museum in Monaco.