This Baseball Legend Mystified The Likes Of Frank Sinatra And Ernest Hemingway
This Baseball Legend Mystified The Likes Of Frank Sinatra And Ernest Hemingway
Hulton Archive/Getty Images
Frank Sinatra was starry-eyed for this baseball legend and Ernest Hemingway once compared himself to this athletic great, according to Sports Illustrated. They were just a few of the legendary celebrities who became weak-kneed around this Baseball Hall of Famer. Hollywood stars asked for his autograph and Bob Dylan referenced him in a song, per Sports Illustrated. It made sense, since this ball player was in four World Series, had incredible stats, had a winning personality, and is still considered one of the greatest, if not the greatest, all-around baseball players in history.
Unlike the white celebrities who loved to compare themselves to him, this Black athlete who reached the highest heights of professional sports had to endure horrific racism as one of the early Black players in the Major League, per Biography. All the adulation he received from both the famous and regular folks led him to withdraw from the spotlight in later years. "I never had what you call a private life," he told The New York Times in 2010.
The stars were ga-ga for one of the greatest ball players in history
Wikimedia Commons
Known as "The Say Hey Kid," Willie Mays was born on May 6, 1931 in Westfield Alabama, according to Biography. After high school, the New York Giants signed him and sent him to the minor leagues, where he had to suffer through segregated housing before his rise to fame. Even in the Majors, Mays endured racist taunts shouted at him from the stands, per Biography. But Mays overcame the obstacles in his way to become one of the greatest, with stats that included 660 home runs, 3,293 hits, and 1,909 runs batted in, per Baseball Reference. 
He became friends with Frank Sinatra and hung out with the Rat Pack, a group of Hollywood A-listers that included Dean Martin and Sammy Davis Jr., per Palm Springs Life. "If I played baseball like you, I'd be the happiest guy in the world," Sinatra once told Mays, according to the 2010 book "Willie Mays: The Life, The Legend." In 1966, Mays appeared on an episode of the television show "Bewitched," and after the cameras stopped rolling, the stars of the show lined up to get autographs, per Sports Illustrated. Even Bob Dylan couldn't keep Mays off his mind. In the 1963 song "I Shall Be Free," Dylan mentions the baseball great, per Bob Dylan.
Even today A-listers give him love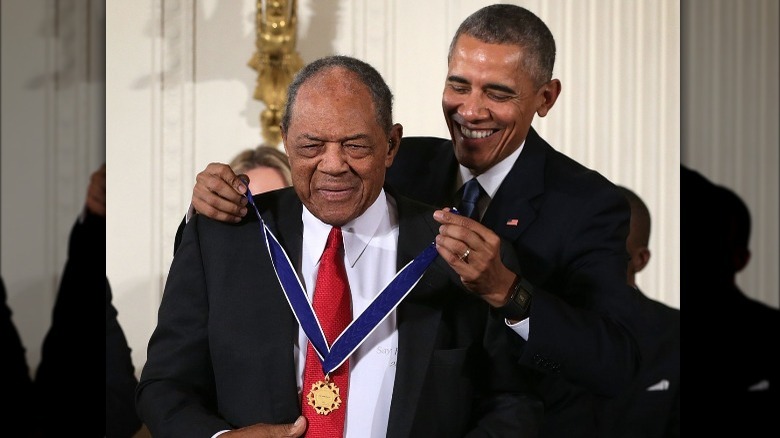 Alex Wong/Getty Images
Willie Mays had a 22-year Major League career with the New York Giants and then the San Francisco Giants after the team headed west in 1957, according to Biography. His last two years were back in New York with the Mets until his retirement in 1973. Mays was always somewhat reticent — he was famously tight-lipped during interviews — and as his adulation grew, he became more withdrawn, according to "Willie Mays: The Life, The Legend" and Sports Illustrated.
That didn't stop his fans from continuing to celebrate the ballplayer, then and now. Willie Mays is 91 and is still lauded by other icons. Last year, when Mays turned 90, former U.S. President Barack Obama tweeted that if not for Mays and Jackie Robinson "I might never have made it to the White House," according to ESPN. Obama went on to say, "The spirit he played with and the way he carried himself changed the game and people's attitudes." High praise indeed from the man who presented the Presidential Medal of Freedom to Mays in 2015, per AL.com.