The Truth About The American Who Created Pickleball
Joel Pritchard knew he was courting trouble. The kids were bored, they wanted something to do, and on that summer day in 1965, the father of four was in a pickle (via Fox News).
Anyone who has dealt with restless children can relate to Pritchard's desperate predicament. Immediate, decisive, result-oriented action was required. And so the military veteran and congressman from Washington State sprung into action. He created something that calmed, amused, and delighted his children. Over the years, it has also morphed into the fastest-growing sport in the country. You guessed it: It's pickleball. And if you are one of the estimated 5 million people who play the sport, according to USA Pickleball, Pritchard is one of the people to thank. The Pickleball Hall of Fame has anointed him the "father of pickleball." The organization says that creating the wildly popular game was something that brought Pritchard enormous pride.
Pickleball and how the rules of the game came about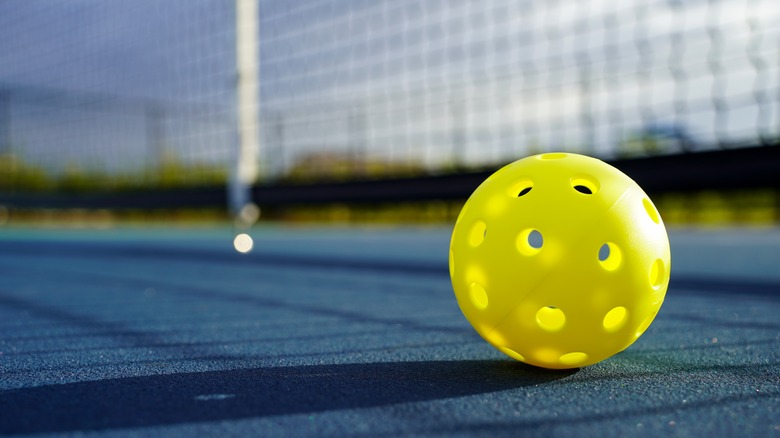 JennLShoots/Shutterstock
As it happened, according to Fox News, Pritchard and his friend Bill Bell decided a game of badminton would be a great diversion for the kids. But they quickly realized they didn't have the right gear. Some improvisation would be required, something an ex-army guy like Pritchard was adeptly prepared to do. They took ping pong paddles and something like a Wiffle ball and created a new game on Pritchard's badminton court, according to Fox. Originally they placed the net at the height of a badminton net, but as they played on over the weekend decided it was better to lower the net, according to USA Pickleball.
But what's a game without rules? In the following days, Pritchard, Bell, and another friend, Barney McCallum, came up with the rules for the new game. The rules they devised closely followed the rules of badminton. USA Pickleball says the whole idea was to create a game for families to play together.
Courting a lasting legacy with a brand new game
Wikimedia Commons
While Joel Pritchard is known as the founding father of pickleball, inventing the now wildly popular game is far from his only claim to fame. He was a self-avowed sports nut who went on to serve as an infantryman in the U.S. Army in World War II, according to History Link. After returning home, Pritchard would seek his first of several political offices in what would become a 45-year career in politics. He first became a state representative for the state of Washington. Later, he served as a state senator, the U.S. Representative representing the Seattle area, and Lt. Governor in Washington state (via History Link).
According to the Pickleball Hall of Fame, despite his many successes, it was inventing pickleball that Pritchard considered to be his life's greatest accomplishment. It just may be the very thing he is most remembered for.
The fastest growing sport in America
jo Crebbin/Shutterstock
In 2021, the game of pickleball was the fastest-growing participation sport in the U.S., according to the Sports & Industry Association's February 2022 report. That's first out of 120 different sports and recreational activities (via USA Pickleball). It's the second year in a row the sport has claimed the lofty title. The game's almost meteoric growth, nearly 40% between 2020 and 2022, is not expected to drop off anytime soon. "Pickleball's growth trajectory gives every indication it will be a significant part of the American sport landscape for the foreseeable future," Tom Cove, President/CEO of the Sports & Fitness Industry Association, was quoted as saying, according to USA Pickleball.
So why is pickleball so popular? For starters, it's easier to learn than tennis (via The New York Times). It's also a slower-paced game that's still great exercise. A study from Western Colorado University found pickleball players burned an average of 354 calories an hour, putting the game on par with other moderately intense workouts like hiking and water aerobics, according to the New York Times. The Healthy says it's a great aerobic workout that doesn't put as much stress on joints and muscles, making it an excellent exercise activity for older Americans.
Pickleball's growing fan club
Denis Makarenko/Shutterstock
While so many players called "picklers" are of the casual sort, the game is also going pro. Former NFL quarterback Drew Brees announced in July 2022 that he's an owner of a Major League Pickleball team, named Mad Drop PIckleball, according to Fox News. He told Fox, "We see pickleball as an incredible medium that brings people together, connects communities and promotes a healthy and active lifestyle."
The game also has a number of celebrity players, including Microsoft founder Bill Gates. He was one of the early adopters and has been playing the game for more than 50 years, according to The Dink. His early introduction to the sport came about because his dad, Bill Gates Sr., was friends with the game's three founders, Joel Pritchard, Barney McCallum, and Bill Bell. Newer celeb devotees to pickleball include George and Amal Clooney, Matthew Perry, Cameron Mathison, Al Roker, and author Brené Brown, according to Parade.
The family dog, Pickles, and what's in a name?
Ajax9/Shutterstock
While pickleball is indisputably the game of the moment, there has been a bit of pickleball history in dispute. For instance, just where did the name come from?
Founder Joel Pritchard's wife Joan is credited with naming the game. No one has questioned that. But why she was inspired to do so? That part has been a bit murkier. As one story goes, she named it after the family's dog, Pickles — that's according to neighbors who say they were present at the time Joan named the game after their pooch (via Pickleball Magazine).
But the Pritchard family says Pickles (the dog) didn't come along until years later. They contend Joan named pickleball after the thrown-together crew in the last boat to finish a crew race — aka the pickle boat. After a fact-finding expedition, Pickleball Magazine has cleared up the dispute. The magazine reports the pickle boat is the true origin of the game's name. Apologies to Pickles.