The Tradition That Started At Diana's Funeral And Continued With The Queen
The Tradition That Started At Diana's Funeral And Continued With The Queen
The new King Charles III considered the flowers on his mother's coffin very carefully. They came from the gardens of Buckingham Palace, Clarence House, and Charles' country home, Highgrove House (via People). The wreath included rosemary and myrtle. The latter — symbolizing a happy marriage — was cut from a plant grown from part of the late queen's wedding bouquet. Other flowers were chosen for colors that matched the Royal Standard covering the coffin. All this rested on a bed of English moss and oak branches, a sustainable alternative to foam.
The coffin ended up with a lot more flowers on it, however, as it was taken from Westminster Abbey to Windsor Castle on Monday. Crowds that had gathered to watch it pass threw tributes of their own, many of which landed on the car carrying the coffin. This custom began in 1997 with Princess Diana's funeral procession. According to Town & Country, so many flowers landed on Diana's hearse that the driver had to use windshield wipers to clear his view. Later, he had to pull over to remove more flowers.
New rules, old memories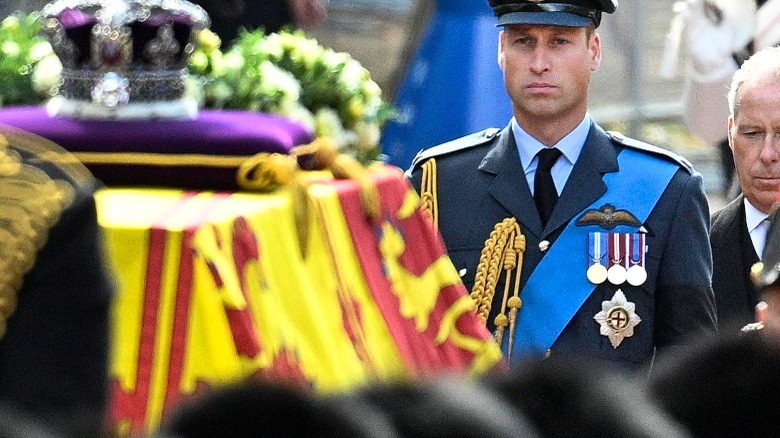 Wpa Pool/Getty
The queen's coffin passed through the London Borough of Hounslow on its way to Windsor, and the borough prepared by advising onlookers on how to behave. Specifically, the borough's officials asked that if onlookers wanted to throw flowers, they only throw one each, with any wrapping or packaging removed. They also asked that the crowd not throw anything other than flowers, including teddy bears and full bouquets or flower arrangements. They encouraged mourners to leave these things at war memorials or places of worship instead (via People).
According to Metro, the queen's coffin had other similarities to Princess Diana's: They were each draped with flags, although it was the Union Jack in Diana's case. Diana's coffin was also topped with wreaths. Another Metro article reported that the events surrounding the queen's funeral reminded Prince William of his mother's. Particularly, walking behind the queen's coffin as it was taken to Westminster Hall was sadly similar. Per Metro, William told a well-wisher at the Sandringham estate "how difficult it was yesterday, how it brought back memories of walking behind his mother's coffin."